Native American artist and activist Gregg Deal's recipe is part street art, part graphic styles, part performance art, with generous dollops of punk music, comic books, and superhero fiction.
He does this with one overriding purpose.
"I'm trying to challenge the western perception," he said, "and create something that helps move the needle of representing the awareness of the first peoples of this country."
Visitors to downtown Colorado Springs will experience the work of the Peyton-based artist. He is responsible for "Take Back the Power," the 66-foot-tall mural of his daughter, Sage Deal, on the side of the building at 102 E. Pikes Peak Ave. The play aims to raise awareness of women, girls and LGTBQ people who are at high risk of disappearance or murder.
Deal's new exhibit, "Esoo Tubewade Nummetu (This Land is Ours)," opened last week at the Marie Walsh Sharpe Gallery at the Ent Center for the Arts in Colorado Springs. It runs until December 11.
He and his punk band, Dead Pioneers, will also perform at a Take Back the Power concert alongside poet and activist Marcelina Ramirez and post-punk rock band Alger. The free show will take place from 5:30 p.m. to 8 p.m. on September 23 in downtown Colorado Springs on Pikes Peak Avenue and Tejon Street. Deal will also speak at a conference of invited artists and critics on October 11 at the Ent Center for the Arts.
Activist art like Deal's can be tricky, said the exhibit's curator and University of Colorado at Colorado Springs Galleries director of contemporary art Daisy McGowan. While it might seem simple for an artist to include a strong social message in their work, it's often difficult to get it right, she said.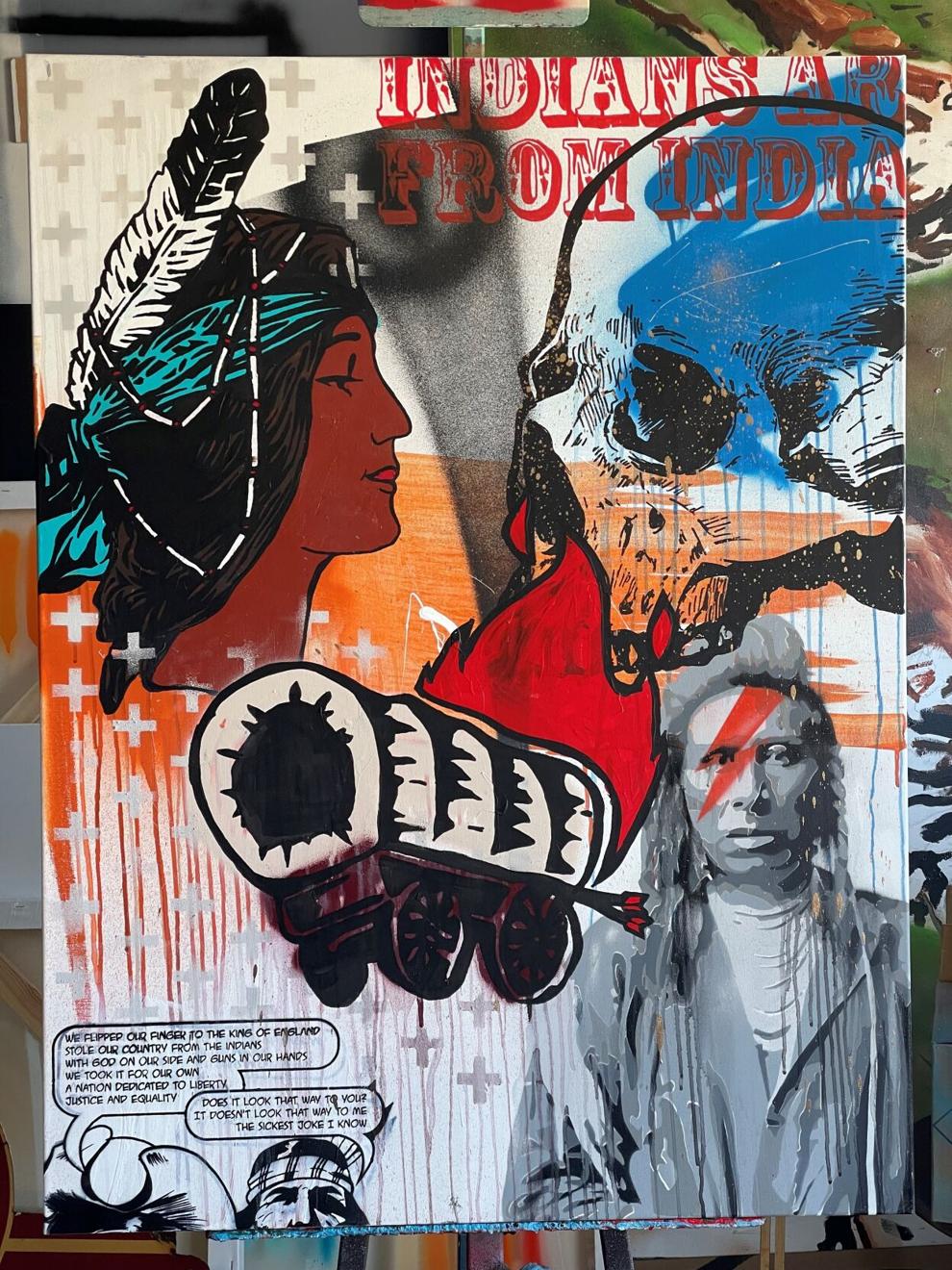 "People get turned off by too strong a message one way or the other," McGowan said. "They decide right away whether they agree or not. He took the work in more abstract directions where it is distilled.
Deal, a member of the Pyramid Lake Paiute tribe, who moved to the area seven years ago from Washington, D.C., with his wife and five children, sees hope for the representation of Indigenous peoples in the culture. He cites the TV shows "Reservation Dogs" and "Rutherford Falls," as well as the new Hulu movie "Prey." Indigenous people make up the cast, he said, and the shows are also informed by indigenous people.
"It's progressing, as the representation increases," Deal said. "But most Americans lack the proper context to understand the historical, social, and poetic ramifications of Indigenous peoples."
He believes that most people only know of the existence of Indigenous peoples through what the culture has told them. Stereotypes in popular media have spread many misconceptions about how they look and talk, such as having certain facial features or certain skin colors.
"Our existence lives within the confines of the perception of our existence and not the reality of our existence," Deal said. "Telling our own stories is happening, but it's still pretty new."
He seeks to do work that does not adhere to stereotypes. In one of those pieces from the show – the 25-foot-long, 8-foot-tall "Never Forget" – Deal uses abstract and basket designs, but also includes images of things that have existed in the United States. United, like the Boy Scouts of America, which evolved to represent indigenous peoples but also misrepresent them.
"Perhaps known or unbeknownst to many Native tribes and communities, the Boy Scouts of America have used a vast amount of Native-themed ornaments, Native-inspired badges, and even full-fledged headdress during scout ceremonies, rallies and outings since the early 1900s," ICT reported in 2019. The independent, not-for-profit news organization serves Indigenous communities.
The exhibit's central message is in its title, which refers to the fact that Indigenous peoples are not immigrants to this country, McGowan said.
"We are the immigrants here," she says. "In American culture, we want to look at Native history in museums or history books – in the past tense. It is important to honor and recognize artists who are working now; otherwise, we relegate Native American tradition to the dustbin of history, that is, putting it in a coffin.
Contact the author: [email protected]