By Stacey Wang Rizzo
March 16, 2022
Gabriela Ortega BFA '17 is the epitome of an artist with an endless stage, undeniably driven to be the change she hopes to see in her craft. And when she shares her goal of uplifting her culture and the Latino community through her work, you can be sure she's achieving it.
"The way I see it, instead of making a seat at the table, I make my own table," the former acting actress said.
As a director, actor, and writer, Ortega has been connected to major industry organizations such as Sundance Institute, Center Theater Group, HBO, and Netflix, among others. His work as a screenwriter and playwright; theatre, film and voice-over actor; and director have earned her several honors and scholarships during her budding career.
And as her career continues to climb, Ortega carries her SDA training the most with her.
"…knowing it's there and no one can take it away from me. …having a process, even if you personalize it along the way, that's the part of the artist that no one else can touch," she said.
Telling community stories
In February, Ortega was named one of six directors selected for the second season of the Disney+ Launchpad shorts program. She will direct a film written by Joel Perez and Adrian Ferbeyre entitled Belle, Floridaa live-action short about a teenage girl who struggles to fix the family's motorhome in time to share the special flavor of her tia abuela at the annual Beautiful City ice cream contest.
Also recently, the alum's short film Huelawhich she wrote and directed, played at the 2022 Sundance Film Festival and the 2021 Tribeca Film Festival. It tells the story of a disenchanted flamenco dancer turned office worker, who must deal with grief and a curse generation triggered by the death of his grandmother.
The film was supported by the Rising Voices initiative, a program created by Lena Waithe's Hillman Grad Productions in partnership with Indeed to invest in and share stories created by BIPOC filmmakers and storytellers.
"Gabriela has so much to give to this artistic world and I'm sure all of these incredible stories she has yet to tell will be produced because she is fearless and has the strength, the energy, the passion , the talent and the discipline to do it," said multi-hyphenate artist and SDA faculty member Denise Blasor, who starred in the film as grandmother, Leonora Garcia.
The couple met in 2014 while casting for the SDA production of Anna in the tropics, for which Blasor was the director and Ortega played the role of Conchita. Blasor recalled immediately wanting to work with Ortega because of his "passion, artistry, truthfulness, enthusiasm, imagination, professionalism, and positive energy."
"Working with her has always been a creative joy and being led by her was as exciting as it was fun. Knowing each other well and trusting each other made the experience even more magical. The student becomes the teacher, what a perfect circle," Blasor said.
Go to realization
Ortega started directing in early 2019 and fell in love with it. Then, the pandemic hit, so she quit acting and focused on her work as a director — developing her own projects, using the time to gain as much experience as possible, and building her portfolio.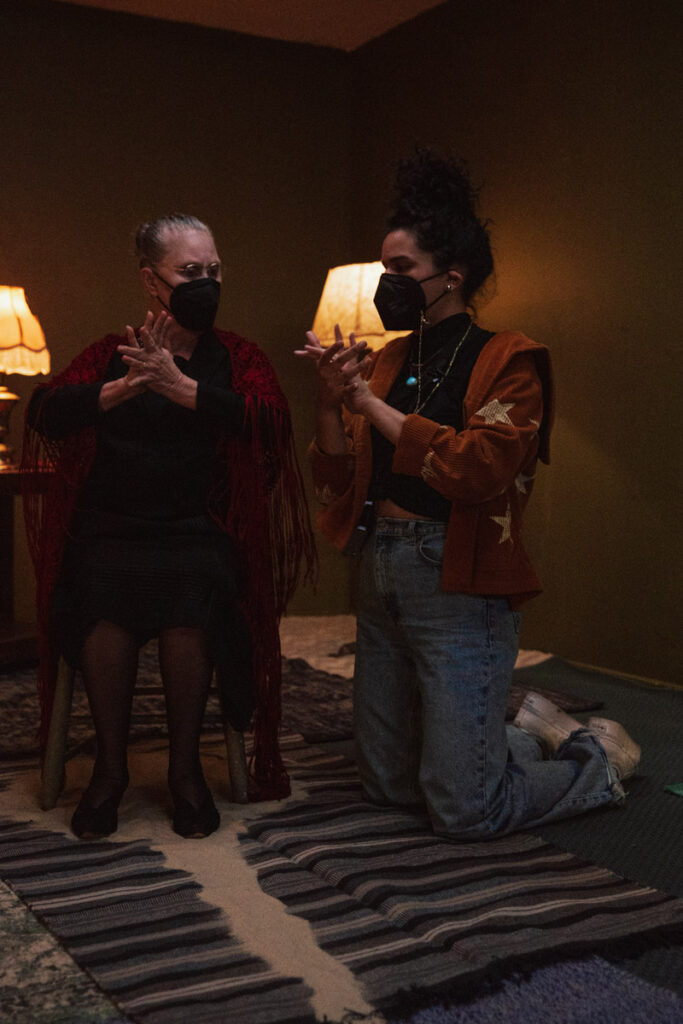 "I started realizing: I know how to do this. I know how to break down a script. I know how to talk to an actor," she said.
As a director, Ortega draws on her training as an actress and theatre, incorporating theatrical elements into her work. She also takes the opportunity in this role to assess her own "blind spots" as she strives for her work to emulate the inclusiveness she hopes to see in the industry.
"…one thing that's important to me is recognizing that I'm not the first person to do this kind of work. Obviously there are so many people doing such great work and for me it's more about being a part of that and carrying on…" she said.
From the Dominican Republic to USC
First arriving in California at age 17 from the Dominican Republic, Ortega recalls feeling like an outsider but was determined to find her place in the city and at USC.
"I didn't feel like the industry as a whole portrayed Latinos. I knew it was up to me," she said.
As a student, Ortega set out to hone so much of her artistry to achieve this goal.
"The girl who arrived on the first day and the girl who left are two different people," she recalls.
Ortega took every opportunity she could — including attending student improv performances, building a relationship with her teachers, hosting a solo show, and taking on a variety of acting roles.
"I'm really encouraging everyone in school right now not to limit themselves because the industry is going to do this to us, they're going to rank us. That's why I love that I got to play a mother of three when I was 21, and one of my last plays at USC, I had to be a French courtesan That's why we go to school We go to school to foster a creative brain before the world tells us what to do," Ortega said.
pay ahead
Even after graduation, Ortega's desire to learn and make the most of his experiences continued. She took on various acting gigs to keep her skills sharp and allow her to network within the industry – all while working three days.
"I think a big part of coming of age was kind of about creating this life for myself. And looking back, I can see how maybe Gabriela — at 21, 22, 23 — was overcommitting, probably working too much for free and burnt out," Ortega said with a laugh. "But, if I didn't have that, then I don't: A. know what I want to do now, B. have all the experience I have, and C. have the respect and the reputation, and the social network I have now…"
Since those early post-college days, Ortega has found a happy balance between his professional and personal life, making sure to take care of his mental health and find joy outside of his job. She cited her community as essential to this balance and her success, which is why the artist wants to do the same for others through SDA's student-alumni mentorship program.
"The first year after university, it was brutal. You need this community. If I can be a part of it, I'm happy to do so," Ortega said. "I just want those who are graduating, especially in these crazy times, to know that they have a community."