Capturing the beauty within black art, the University Galleries of NC A&T hosts the art exhibition 'The Beauty Within: African American Art from the Permanent Art Collection'.
Paul Baker, the former director of the university galleries, collected and mounted the exhibition himself. Each piece is a dedication to diversity in the black community.
Baker believes that every piece is committed to real beauty being understood in every view.
"This exhibition will show both the diversity of African American art as well as the permanent collection of university galleries," Baker said. "It is essential that museums and galleries showcase the power and purpose of black art and material culture."
The on-site exhibit features 15 works by notable artists such as Vandorn Hinnant, Alma Thomas and Norman Barbee all of which depict the simplicity of black art and the impact it has on understanding the meaning of true beauty.
Director of University Galleries Roy Carter believes this collection is for viewers who are not necessarily art enthusiasts. He reiterates that this exhibition is a perfect introduction to understanding how such active paintings embody creative expression.
"To look at an abstract piece from this collection is to take in unfamiliar concepts and appreciate its beauty," Carter said. "It's not about artists, it's about appreciating the beauty of a work of art that is far beyond recognition."
Students on campus love how the collection's abstract pieces use particular shapes and colors to capture their emotions and spark a fond memory.
First-year criminal justice student Kera Ridley would agree that the curved lines of these pieces encourage viewer participation.
"Vandorn Hinnant's 'Journey to Muspell' piece is my favorite because of its curved lines and colors," Ridley said. "In art, curves usually represent calm flow and yellow gives me a warm feeling like when I visited a black cultural center in Los Angeles."
The collection tells a narrative, using landscape paintings to represent the landscape of the natural world. Often in landscape art, pieces do not contain a humanistic element, an element that African Americans consider important in art.
Sophomore computer graphics student Jada Shepard says African American landscape art is all about capturing a fleeting moment in time using detail.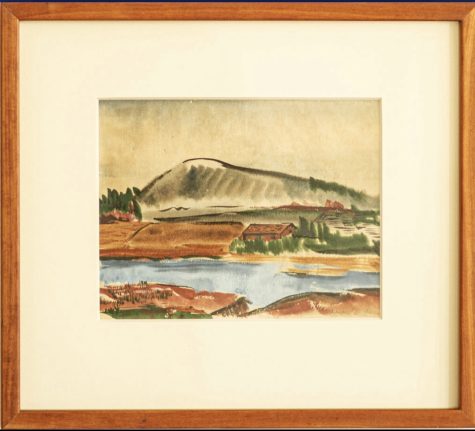 "Charles Alston's 'Untitled Landscape' piece is my favorite piece because it's both detailed and reductive," Shepard said. "I also have a fondness for southern landscape art, especially black artists."
The exhibit will be on view through mid-October at the University Galleries, in the Dudley Building on the NC A&T campus.
The gallery is free and open to the public Monday to Friday from 10 a.m. to 5 p.m. and by appointment only on Saturdays.
For more information about the new exhibition and other current exhibitions, you can visit the youGalleri Universityis web page.